Teachers and Examiners collaborated to create the Entrepreneurial Skills Class 9 Notes. All the important Information are taken from the NCERT Textbook Employability Skills as per the board pattern. The CBSE Employability Skills Class 9 Notes is a useful resource for students studying in class 9. The page offers notes and other study materials that can help students prepare for exams, including the CBSE and other competitive exams. It is a good idea for students to regularly visit the page and stay up to date with the latest information and resources.
Entrepreneurial Skills Class 9 Notes
An entrepreneur is a person who decides to start their own company based on a concept they have or a product they have developed, taking on the majority of the risks and enjoying the majority of the advantages.
Entrepreneurial Skills Class 9 Notes
Business – Meaning and Types
A business is described as an ongoing activity in which people engage in economic activity with the intention of making a profit through the production, sourcing, purchase, and sale of goods and services.
Businesses share the following characteristics regardless of their type, size, scale, or ownership:
Trade-related – Trade-based enterprises are those that primarily involve the buying and selling of goods or services.
Economic or social motive – Typically, the main goal of most firms is to make a profit. This is why they engage in economic activities including production, distribution, trade, and expansion.
Presence of an entrepreneur – Every business has a founder who is more than just an entrepreneur. This person is in charge of taking the initiative to launch, manage, and expand the firm, as well as to make important decisions and accept the associated risks.
Regular Transactions – A company needs to conduct transactions and deal with customers frequently. Even if a profit is made, an activity that only involves one transaction in which products and services are exchanged or transferred cannot necessarily be regarded as a business.
Uncertainty – Every firm is characterized by uncertainty regarding sales, profits, and success. There is no assurance that the money invested will yield a return or that the company will make a certain quantity of money.
Entrepreneurial Skills Class 9 Notes
Types of Businesses
There are basically four types of Businesses –
Manufacturing Business – Manufacturing businesses source product s that can be used as raw materials, with the intention of converting these materials to make an end product.
Service Business – A company that provides services to its clients is known as a service business. Transportation, cleaning, travel, hospitality, maintenance, and consultation are a few examples of service business.
Merchandising Business – One of the most common business types is a merchandising company. A company that buys finished goods and resells them to customers is known as a merchandiser. Think about supermarket or clothes retailer.
Trading Business – Reselling products is another activity done by a trade company. The distinction between a trading business and a merchandising business is that a trader is not required to maintain an inventory. For example Real estate brokers, middlemen, importers, exporters, foreign exchange traders, etc. are a few examples of trading firms.
Hybrid Business – Combining various organisational patterns to create goods and/or services is what is meant by a hybrid business model. Businesses have realised that hiring virtual assistants is the most effective approach to streamline operations, cut expenses, and expand their operations.
Entrepreneurial Skills Class 9 Notes
Features of Types of Businesses
Types of Businesses in Our Community
Based on size –
Micro Enterprise – A micro enterprise is a business enterprise where the investment in plant and machinery or equipment is not more than INR 1 crore and turnover does not exceed INR 5 crores.
Small Enterprise – A small enterprise is a business enterprise where the investment in plant and machinery or equipment is not more than INR 10 crore and turnover does not exceed INR 50 crores.
Medium enterprise – A medium enterprise is a business enterprise where the investment in plant and machinery or equipment is not more than INR 50 crore and turnover does not exceed INR 250 crores. 
Entrepreneurial Skills Class 9 Notes
Based on legal form –
Sole proprietorship – In a sole proprietorship, the ownership and control of the business is with one single person, and the liability of the owner is not separate from the entity.
One Person Company – A One Person company also has only one person as a member, who acts in the capacity of both, a shareholder and a director, but an OPC is legally separate from its owners. There is no threat on the owner's personal property in case of unmet liabilities.
Partnership – Partnership is a legal form, where at least two people, or more start a business as co-founders or co-owners and divide the share as per agreement. The partners are personally liable for an unlimited amount of liabilities.
Limited Liability Partnership – In a Limited Liability Partnership, there are two or more partners. In this, no one single partner or owner is individually responsible for any other partner's or member's negligence or misconduct or liability.
Company – A company is defined as a legal entity formed to get engaged in business, by a group of individuals. Usually, these individuals have limited liability, and the capital in units of equal value of a company are called 'shares'. Company can be public or private.
Entrepreneurial Skills Class 9 Notes
Based on sector –
Primary sector – Businesses that extract, retrieve, harvest, and produce raw materials using earth-based natural resources are included in this category. Coal, wood, wheat, iron, corn, and other raw commodities are some examples. Mining, agriculture, fishing, horticulture, and other core sectors are examples.
Secondary sector – The conversion of raw materials into finished items is the primary activity of enterprises in this industry. It organises all manufacturing variables using primary sector items to create both utility and luxurious goods.
Tertiary sector – This sector is defined by provision of services to businesses and customers. It is completely based on a service and there is no production of goods involved.
Objectives of Entrepreneurship Development
Some of the core objectives of entrepreneurship development include:
Assisting entrepreneurs in undergoing the process of entrepreneurship.

Handholding budding entrepreneurs to recognize and design unique business opportunities.

Helping aspiring entrepreneurs start and grow dynamic businesses that provide high value add.

Developing the motivational needs of entrepreneurs.

Training entrepreneurs to develop the required skills and gain knowledge for running and managing a new business.

Providing support to entrepreneurs for effective business planning

Accelerating and incubating new ideas.

Aiding in the availability of technology or raw material.

Creating adequate infrastructure for entrepreneurial activities.

Providing financial assistance from banks and other financial institutions.

Enabling a suitable entrepreneurship ecosystem and business environment.

Implementing norms, policies and rules for establishment of new ventures and enterprises.

Providing tax benefits, incentives, subsidies etc. for creation of new enterprises.

Encouraging research and development across industries
Entrepreneurial Skills Class 9 Notes
Phases of Entrepreneurship Development
Stimulatory phase
Stimulatory phase involves stimulating or generating need, interest, motivation and awareness among individuals to become entrepreneurs. It is done by orienting them towards the meaning, process, benefits and practice of entrepreneurship.
Support phase
The support phase involves helping new businesses with their varied activities through mentoring, incubating, funding, and counselling the entrepreneurs. Some of these actions include choosing a business strategy, creating a prototype or product, registering a company legally, consulting on management issues, providing money, providing a building and power, choosing the right equipment and plant, obtaining licences and permissions, etc.
Sustenance phase
The goal of the maintenance phase is to aid businesses in making expansion plans. Strategies for growth, expansion, diversification, modernization, etc. are all given guidance. Additionally, assistance is provided in the form of research and development, additional funding, market research, etc.
Challenges of Entrepreneurship Development
Lack of continued motivation

Lack of formal education

Low technical knowledge

Absence of managerial skills

Inadequate infrastructure and resources

Lack of finance availability

Lack of awareness about entrepreneurship schemes

Strict regulatory framework

Low margin market linkages
Entrepreneurial Skills Class 9 Notes
Entrepreneurship – Characteristics, Role and Rewards
Characteristics of Entrepreneurship
Innovation
innovation can be understood as creative use of one's ideas to propose a solution that introduces something unique or new to the world. There are many types of innovation such as product, process, disruptive etc.
 Dynamic Economic Activity
Entrepreneurship involves creation of value or wealth through a business enterprise, that buys and sells commodities/product/services and uses resources optimally.
Risk bearing
When putting certain decisions and ideas into practise, entrepreneurs must take risks. Businesses can anticipate certain risks, such supply constraints, rising raw material costs, price volatility, shifts in governmental laws, etc.
Potential For Profit
"Profit potential is the likely level of return or compensation to the entrepreneur for taking on the risk of developing an idea into an actual business venture." For a commercial entrepreneur, profit is usually the main goal.
Entrepreneur Vs. Entrepreneurship Vs. Enterprise – Characteristics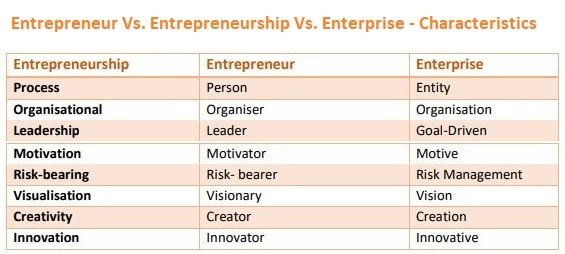 Entrepreneurial Skills Class 9 Notes
Role of Entrepreneurship
Capital Formation – Entrepreneurship leads to value addition and creation of wealth, because entrepreneurs promote capital formation by mobilising the idle savings of public.
Employment Generation – Increased entrepreneurial activity has the potential to lead to more prospects for large-scale employment. Numerous employment opportunities for skilled, unskilled, and jobless people are produced as more firms, offices, factories, trade entities, etc. are established, especially in emerging nations.
Balanced Regional Development – Entrepreneurship helps to remove regional disparities
through setting up of industries in less developed and backward areas. Micro businesses and cottage industries also play a role in increasing entrepreneurial activity in many specific cultural regions.
Value Creation – Value creation happens when a client base recognizes a product or service as having more value and a firm makes money by selling the good or service to satisfy the customer's requirements and wants.
Wealth Distribution – Due to entrepreneurship and transaction-based activities, wealth and income are distributed among people and regions. Salary payments are made to employees, suppliers are compensated for their supplies, commodities are sold in a variety of markets, large-scale services are rendered, etc.
Industrialization and Development – If a business is established in an area and is perceived as a lucrative prospect, it is possible that other people will be inspired to establish businesses of a similar nature.
Entrepreneurial Skills Class 9 Notes
Rewards of Entrepreneurship
Economic development – The most effective use of resources, the development of new concepts, wealth creation, constant money flow, skill development, etc. are some characteristics of economic development. These aspects are all made possible by entrepreneurship and are crucial for a country's economic growth.
Enterprise and Business Creation – Entrepreneurship has a direct impact on the growth of businesses.
By merging and coordinating various resources, including human, financial, physical, and intellectual capital, as well as entrepreneurial aptitudes like risk-taking, creativity, leadership, and resource management.
Capacity Building – As an entrepreneur spends in educating staff members and enhancing their managerial skills, skill development and training is a big benefit of becoming an entrepreneur. Similar to this, an entrepreneur also improves his or her own skills by resolving issues, making choices, accepting setbacks, trying out other strategies, etc.
Improved Standard of Living – Customers have various options when choosing from a variety of goods and services to fulfil the same need thanks to entrepreneurship. Higher standards of life are a result of the diversity and accessibility of better goods and services provided by businesses.
Employability Skills Class 9 Notes